Register for the New Groundwater Matters Webinar,"The 11th Hour for GSAs: What Happens July 1st?"  Click Here to Register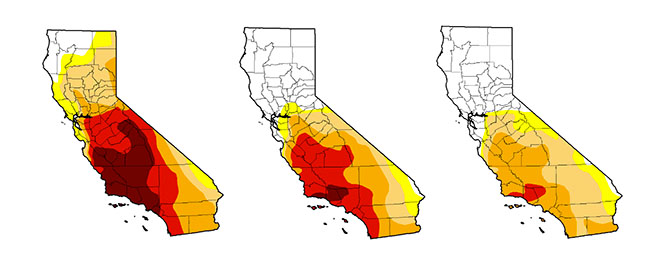 We're hearing that the drought is over in the Northern half of California state, and as you can see from the maps at the top of this post from the USDA Drought Monitor (showing California's drought levels in October 2016, and on January 17 and January 24 of this year), we've had a good soaking this winter, particularly over the last month.
If you're a fan of images like that, you might like to look at the great images of Folsom Lake published by KQED last week. Goodness knows it's rather nice to be thinking about a bit of good news, particularly amidst the current political climate.
Now I'm not a pessimistic doom-merchant, honestly, so I'm going to allow myself, and you, a moment, here, to feel relieved that our current water shortage appears to have eased, somewhat.
Okay, that is quite enough relief for both of us!
Why? Everything is relative. For one thing, back in year one of our five-year drought, in January 2012, the drought map actually looked better than it does now:


We've been over-drafting our water balance for a long time, and one wet month is not enough to solve our water problems.
In the 20th century, California relied on the state's snowpack to ensure sufficient water for both cities and farms. Today, because of higher temperatures, that snowpack is melting sooner, providing less storage in the summer months – that means that even if the same amount of rain and snow is falling, we have less water available.
The good news is that California has a huge amount of water storage available underground throughout the state. Unfortunately, for years, we've been overdrawing our groundwater account without recharging it. To meet the long-term effects of climate change, we need to invest more, now, to ensure groundwater sustainability into the future. And that means measuring and limiting our water use, planning so we can replenish our aquifers in times like these, and ensuring that the Legislature holds to its plan to ensure long-term groundwater sustainability.
What can you do, now? Two things.
Firstly, I'd urge you to participate in the coming-to-fruition of the Sustainable Groundwater Management Act, as we approach the July 1 deadline for formation of Groundwater Sustainability Agencies. Find out if you live in a groundwater basin that is subject to the Act, and drop me a line to find out how to get involved.
Secondly, support our call for every Californian to have access to safe and affordable drinking water. Rain or shine, up to a million Californians continue to lack access to safe and affordable drinking water in the state. We've been working for years to secure a sustainable source of funding to address these challenges. So, now is the time to tell your legislator: Commit to developing a sustainable funding source for drinking water right now.
One of the biggest problems with our political system is that unless there's a bright red emergency light flashing right this very second, it's hard for our elected leaders to make any issue a priority. In California, we just got a huge rain bonus, but that doesn't mean our leaders should be allowed to blow the check. Let's not leave it until our rain account is in the red again to make sure we're practising better budgeting.
–Jennifer Clary, Clean Water Fund